Janina Chetty (Germany) BA Student Area Studies of Africa and Asia / Social Sciences, Humboldt University of Berlin, Jan 2009 - Mar 2009

I joined CIDT in January 2009, during those two months I had the chance to get a first impression on different aspects of life and living in Egypt. My main work interest was to analyze the media coverage on the attack on the Abu Fana Monastery in Upper Egypt. Luckily, apart from research archives and the Internet, I also got the chance to visit the scene of the incident myself and could obtain a much better understanding of what happened by conducting interviews and visits. Our team is great and I enjoyed the many opportunities to learn from others and to engage with them on different topics. 
I really recommend this internship for other students of social, media or Middle Eastern studies - just, don't do the same mistake I made and come for more than two months!
Lisa Tribuzio (Australia) University of Melbourne, December 2008 - February 2009

I am so grateful to have had been an Intern at CIDT. I had many opportunities to meet new people, learn about the issues facing the diverse Egyptian society and educate myself to know more about Islam and Christianity. The people in the office made the experience what it was, because the work environment was 'multifaithed' and multicultural which led to healthy and funny debates within the workplace itself. I had the opportunity to attend a conference about Ibn Arabi and to educate myself about the Sufi religion, as well as attended a press conference led by the former Secretary-General of the United Nations, Dr Boutros Boutros Ghali. I also had the opportunity to conduct my own small research project about issues facing Egyptian youth in urban society where I was linked to key community leaders who gave me more contacts and more knowledge. I was also given the opportunity to meet with representatives from another NGO in Jordan called the Arab Thought Forum. 
I really enjoyed the experience as it gave me guidance and structure, but also the liberty to allow my own creativity to be expressed. Thank you and I will take this knowledge back to Australia with me.
Asif Girach (India) February - August 2009

As an IT Professional, after completing my studies in the United Kingdom, I worked at a government school in England as an IT Technician / Web Developer. I stepped into Egypt for the first time in August 2008; back then I only had the plan to visit, but I came back to Egypt again. I am glad that I have found CIDT  where there is a multicultural environment with multinational colleagues. I am working as a web developer and it's a great opportunity to share and gain experience with CIDT. Furthermore, I learnt that CIDT is working on Christian-Muslim relations and exposing the truth on misrepresentation by the media. I wish to now tie up with CIDT and work remotely from anywhere in the world; I'm glad that my IT career will allow me to do so!!
Wishing all of you (CIDT team) a great success!
Sandy Neubert (Germany) BA Student for Arabic Studies and Oriental Philology , University of Leipzig, February 2009 -  March 2009

I joined CIDT in order to apply and improve my skills and the knowledge which I acquired in my studies at my university in Leipzig, Germany. The time in an Arabic-speaking country helped me to improve my Arabic language, especially concerning the Egyptian dialect. The work at CIDT was very exciting because of its multicultural staff. The main project I did was concerning human rights organizations in Egypt and how they were shown in the Arab media.  To finalize my reports I got the great opportunity to conduct interviews with the Andalus Institute for Tolerance and Anti-violence Studies and the Egyptian Initiative for Personal Rights.
Kirsten Anderson (U.S.A.) Calvin College, October 2008 - April 2009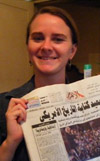 A few months after moving to Cairo I started work at Arab-West as an intern setting up a 501 c(3) non-profit organization in the U.S. to support the Arab-West Report.  I also worked as a language editor. After a few months, I also became the Intern Coordinator at CIDT. I loved getting to know everyone in the office, reading more about Egyptian society through the news, and contributing to the cause. My time in Egypt has come to an end but I will miss everyone very much!
Jonas Rye Nielsen (Denmark) MA Arabic, University of Copenhagen, February 2009 - June 2009
As an intern at Arab-West Report my work involved writing reports about the Egyptian human rights organizations and their activities.
I am very grateful to have been a part of the office team and I learned a lot about the Egyptian society and its many aspects.
Furthermore the office is a great working environment with many nationalities. It was really a great experience to meet so many different people with different views and cultures.
Arab-West Report is definitely a place that lived up to my expectations and I will miss it!
Asger Toft Johannsen (Denmark) MA Arabic and Middle Eastern Studies, University of Copenhagen, February - July 2009

Asger is a student of Arabic and Middle Eastern studies. He gained interest in CIDT because of his interest in the Middle East and the Arabic language. In the period he was here, he worked on writing a report about the land conflict in the area of the Monastery of Abu Fana, which on May 31, 2008 culminated in an attack on the Monastery by Muslim Bedouins (traders and farmers) in the fight for land, and how the conflict enhanced sectarian elements as well. Furthermore, he wrote some articles on the culling of pigs in Egypt as a result of the outbreak of the Swine flu in Mexico 2009 and an article about problematic aspects of sectarianism in Egypt. In a period of transition he also worked as intern coordinator in the office.
"I have had some wonderful experiences at the office. At CIDT I worked together with people who were both professional, but also very good friends. I have learned things about the Egyptian society that I could not have except from here. At the office I had the chance to go places that would not have been possible in any other way and I'm very thankful for a lot of the experiences and friendships I gained here"
Sandra Heijden (The Netherlands) BA student Arabic Language and Culture / Cultural Anthropology, University of Amsterdam, April 2009 - July 2009

I have done research on reconciliation, with the special focus on al-Tayyibah, a village in Sam'at, al-Minya. We were supposed to visit the village to report the successful reconciliation, but we found the reconciliation was not successful, the tensions did still exist, and it was unfortunately not possible for us to visit the area. Another main task was to improve the search ability of the AWR database by correcting a list of organization names. 
It has been a great experience to work with and learn from people from all over the world with different backgrounds. The internship has been a great opportunity to get a better understanding of the Egyptian society. Of course living in Cairo has highly improved my Arabic language skills as well.
Alexander Wamboldt (United States) BA Anthropology and Religious Studies, Brown University, May - August 2009

Alexander Wamboldt studies anthropology and religious studies with a focus on the Arab Middle East, making CIDT a natural fit for him. While working with CIDT, Alexander researched and wrote a report on the pilgrimage policy of Pope Shenouda III and the Coptic Orthodox Church to Israel, compiling a complete list of Egyptian media references to Pope Shenouda III in the Arab West Report in the process.  This research consisted not only of these many articles, but also many interviews across Egypt with bishops, priests, monks, prominent Coptic figures, and ordinary laypeople.  In addition, Alexander wrote a report on the church restoration projects of Atfih and Deir al-Maymun, following the Arab West Report's visit there, as well as a separate article on his experiences during his personal trip to the Monastery of Saint Macarius in the Nitrian Desert for the Report.  He also wrote and managed the Arab West Report newsletters during his time in the office.
As Alexander said of his time, "CIDT has shown me a part of Egypt to which I would have never had access.  Both the close personal ties I have forged in this office as well as the professional experiences I have gained have truly made this a unique internship experience.  I am already trying to make plans to come back to Egypt and the people who I will dearly miss."
Andrew Wong

I have enjoyed working in the IT section at CIDT very much. It has been a good learning experience for me! Through my experience, I got to appreciate the important role that IT plays for the organization. It was a unique experience for me to live and work in Cairo. The IT department is composed of staff members coming from different cultural backgrounds. Some even work remotely from different continents, but these distances and differences never dampen the enthusiasm of the team to work together to produce good work! If you are equipped with IT skills, and find the work of CIDT meaningful, please do not hesitate to explore the possibility of getting involved in some ways!
Mireille Fikse (the Netherlands) BA Religious Studies, VU University Amsterdam, September - December 2009 

Last year I have been doing an internship at CIDT for about five months, starting in September 2008. I really enjoyed it! Because of this, I decided to come back in September of this year [2009], this time to do research for my bachelor's thesis about Amr Khaled - an Egyptian Islamic television preacher. The main goal of this research is to figure out why he is so popular among Egyptian youth. At the office I got the opportunity to access all relevant information, such as articles of the Arab-West Report database, Arabic newspapers and television shows. I also had colleagues who helped me with translations, finding information and get in touch with certain people. I gained all the information I needed, and hopefully I will finish my thesis soon. So my time in Egypt and the opportunity to work at CIDT was again very valuable to me!
Rochelle Curtis (the Netherlands) BSc European Studies, Maastricht University 2009

I started my internship at CIDT on October 1, 2009. As I was very lucky AWR gave me the opportunity to join a research project on peace-building, my main focus has been on reconciliation in Egypt. More specifically, I looked into various incidents that have occurred in Egypt and how they were handled. It was particularly interesting to see how conflict resolution in the Middle East differs so much from conflict resolution in the West. As I intend to do a Masters in Conflict Resolution and Governance next year, this internship was the perfect preparation.
Therefore, I am very grateful for this great opportunity AWR gave to me. Moreover, working in an international atmosphere has allowed me to learn a lot from other interns and has changed my views on certain things in many ways. After a short stay of three months I only wish I could stay longer. My internship at AWR has definitely made my time in Cairo a great experience. Shokran!
Coline Schep (Holland) BA Arabic & Social Anthropology, School of Oriental and African Studies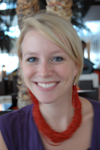 During my two-month stay at the multicultural CIDT office I worked on a comparative study of four major sectarian incidents in Egypt, particularly paying attention to the reaction the Coptic pope Shenouda III had to each one of them. In the course of producing my paper, I learned a great deal about inter-religious relations in Egypt and came to grips with the not-always-neutral style of media reporting here thanks to Arab West Report's extensive database and useful connections. After my internship finishes I will stay in the country for another few weeks, during which I hope to visit the site of one of the incidents I investigated, the monastery of Abu Fana in Upper Egypt. During my time here I also got to do some Arabic-English translation, as well as language editing, both of which equipped me with experience that will come in handy in future jobs. All in all, my internship proved a valuable extension of my Arabic and Middle Eastern Anthropology studies.
Hyung Il Kim (South Korea) February - May 2009

During the three months that I spent with Arab West Report, I have learnt a great deal about the current events in Egypt. As a high school student, I have never really had any chance to learn about such issues that AWR deals with. I have translated an interview of Drs. Hulsman done by a Korean newspaper, organized the website, and started working on establishing a Korean website for AWR's translations in Korean in more accessible form to the Koreans. 
It was a great opportunity for me to be more open to foreign culture and also be more understanding. I now have more open and unbiased perspective of seeing the world thanks to the experience working in AWR.  I also have learned about Egyptian culture as I got to know some people in the office. I think my experience in AWR was definitely worthwhile and productive.
Ben Connery (UK)  Oxford University, July-August 2009

I became interested in interning in Egypt after a year studying Arabic in Syria as part of my university course, and the CIDT offered the perfect environment for me to learn more about Egyptian society over a two-month internship. During my internship, I researched and conducted interviews with Muslim intellectual Gamal al-Banna to co-write a paper about him for publication on the Arab West Report's website, as well as visiting the site of sectarian tensions in Upper Egypt and proof-reading the papers of al-Azhar Professor Hassan Wagieh on cross-cultural communication. During my time with the Foundation, I was also lucky enough to be able to attend a number of discussions and lectures given by individuals on a diverse range of subjects relating to Egyptian society, history and culture, and I assisted in processing the applications of prospective interns prior to the arrival of our new intern coordinator. I would recommend the internship to anyone interested in contemporary Egypt, and particularly to those interested in doing research-the opportunities are quite simply limitless, and you could easily spend years here without running out of material to follow up on!
Remi Drouin (UK) BA Arabic and Persian, Oxford University, July-August 2009

Having spent a year in Damascus as part of my degree, I really wished to see another country and sphere of influence within the Middle East, so Egypt was the perfect choice to spend two months of the summer holidays. Above all however, i wanted to work within a professional research organisation that would not only allow me to experience firsthand aspects of Egyptian culture not normally available to a language student, but would be trustful and forward-thinking enough to grant me complete responsibility over a specific topic of research. the AWR did this and much more - their website really doesn't lie when they say that you will be given responsibilities and actual, concrete research experience. the very informal yet highly focused and creative atmosphere gets any recruit fired up about their research project and hence the productivity of the foundation is amazing. During my two months as part of the AWR, I not only got to write a biography of Gamal al-Banna (the brother of Hassan al-Banna, founder of the Muslim brothers), which required direct weekly interviews with the great man, but I also was fortunate enough to start a separate investigation into Muslim/Copt grievances and incidents in the southern part of Egypt, and in particular around Ezbet Bushra - that also required interviews with various community figures. all of our work was published on the AWR website, and we were fortunate enough to publish a summary of the biography within the Al-Ahram supplement 'al democratiyya'. Finally, with the AWR being the mixing pot that it is, i was fortunate enough to engage in very lively written and oral debates with said al- Quimni, another figure of the Egyptian intellect milieu. Needless to say that i would highly recommend any student to complete an internship here, especially if you are passionate about the region and thirsty for undertaking real and relevant research.