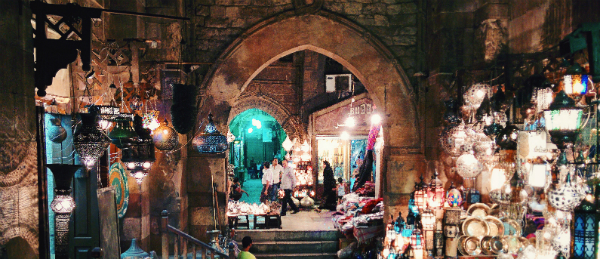 Khan al-Khalili at night [Credit: J. Vink]
Overview
The Center for Arab-West Understanding (CAWU) gives students from around the world the opportunity to independently carry out research projects of their choice on topics relevant to 'Arab West Report' (AWR). Journalism interns will also be given placement with a local magazine where they can gain practical journalism experience. 
As a journalism intern your tasks will include, but are not limited to:
Primary:
Researching topics of interest to Arab West Report.
Write articles for the Maadi Messenger. 
Work to maintain CAWU's various social media accounts. 
Secondary:
Rapid response reporting
Investigative journalism. 
Reading, editing and commenting on other research topics.
Report writing on CAWUrelated events.
Interviewing Egyptian scholars and other influential people.
Accompanying senior researchers on meetings.
General (web) administrative tasks.
Qualifications
Required:
University student or graduate. Those with an educational background in Journalism, Arabic studies, Middle Eastern history, Islamic studies, political science, international relations, sociology, cultural anthropology, or intercultural dialogue journalism are specifically encouraged to apply.
Demonstrable experience with graphic design (infographics, logos, posters, etc.) 
English fluency as the research should be conducted in English.
Experience with journalistic or academic writing or editing, whether through former jobs, internships, or school publications. 
A general knowledge of Arab-West relations and their role on the current regional political climate.
Beneficial but not necessary:
Knowledge of written and spoken Arabic is beneficial in order to use Arabic sources and conduct interviews with Arabic speakers.
Experience in the non-governmental, grassroots and/or humanitarian sector is useful.
Prior experience with intercultural dialogue is a plus.
Eligibility
Applicants who commit to work for at least 2 consecutive months will receive priority.
Applicants should be available to work at least 35 hours per week during weekdays between 8:30am and 5:30pm. The Egyptian weekend is Friday and Saturday.
Benefits
All internships are unpaid. However, the cost of living in Cairo is relatively inexpensive and CAWU can provide the applicant with a letter requesting funding if necessary. Depending on the university there are possibilities for the intern to receive college credit. All interns will receive a recommendation letter after they successfully complete their internship.
Furthermore, intern participation in cultural activities such as lectures, workshops, or seminars can account for up to 10% of the agreed working hours, provided they relate to intercultural dialogue and seek to give participants a deeper mutual understanding of the Arab world and the West. Such activities can be organized individually or by management.
How to apply
Your resume/CV with the names and contact information of two references.
A motivation letter indicating the desired period of your internship, the specific intern position, and how you believe your research interests align with AWR's mission.
After a first selection the prospective journalism intern will be asked to submit writing samples. 
Note: Incomplete applications will not be considered.